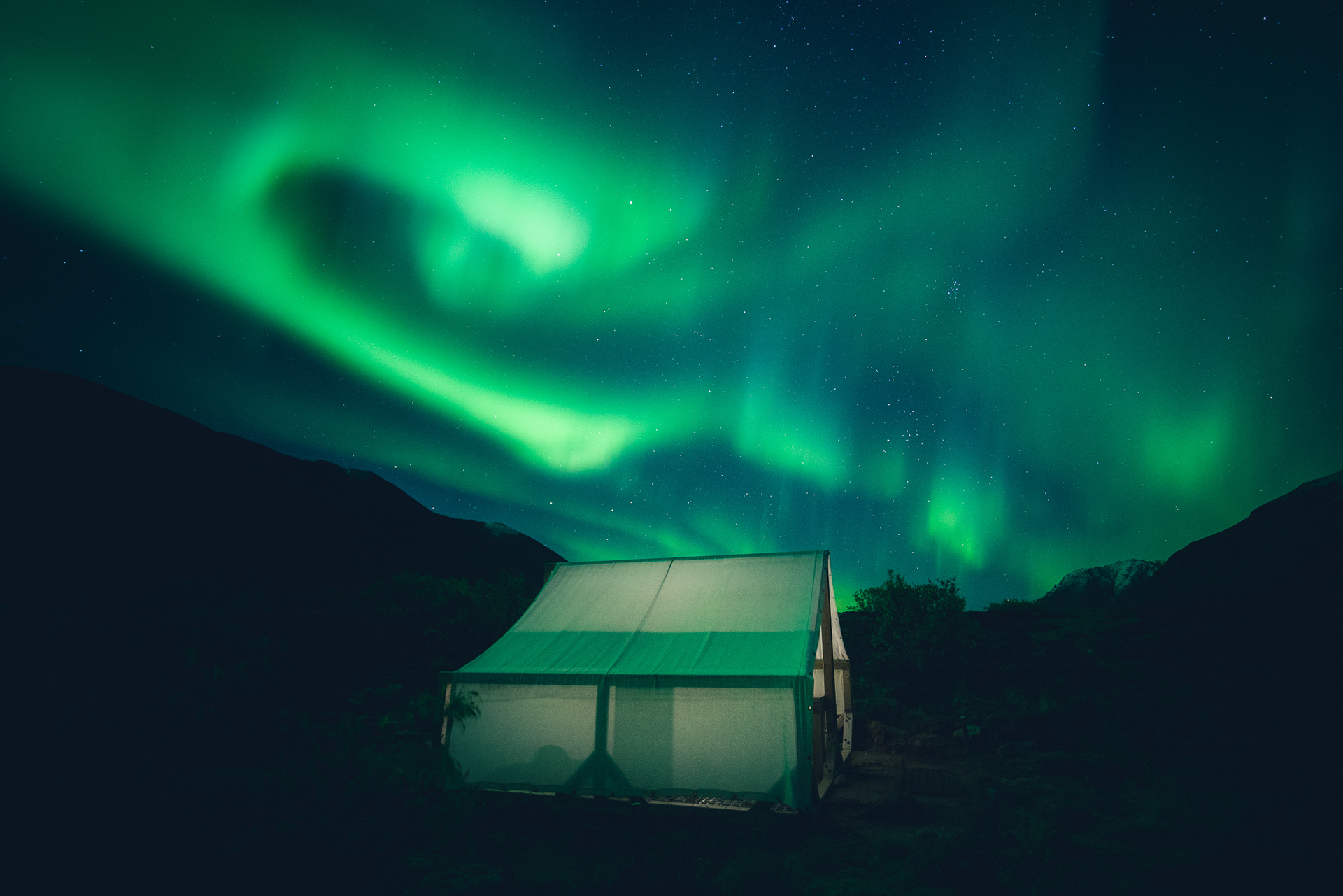 HELI-HIKING UNDER THE NORTHERN LIGHTS


TOMBSTONE TERRITORIAL PARK
YUKON, CANADA
SEPTEMBER 6-12, 2020


7 DAYS, 6 NIGHTS
$3675 CAD / $2850 USD


INCLUSIVE OF TAXES & FEES
6 spots currently available
$1000+ in early bird bonuses if booked by July 1

Guided by Chase Teron + Jake Graham
Licensed and insured to operate in Yukon
___________
Pick up & drop off from Dawson City Airport (YDA)
This week-long photo workshop in Tombstone Territorial Park, known as The Patagonia of Canada, is designed to take you to some of the parks most beautiful locations, including Talus, Divide and Grizzly Lakes. During the trip, you will stay in top-rated local hotels and have the opportunity to camp and photograph the rugged, mountainous backcountry of the Tombstone mountains for four nights.
The small group size of this tour (6 participants, 2 guides) will allow for a more intimate experience than larger, more expensive group tours. This trip is suitable for various levels of photography experience, from enthusiastic beginners to seasoned professionals looking for unique portfolio photos. Throughout the trip there will be opportunities to focus on specific aspects of photography you are most interested in developing further (long exposures, night sky shooting, focus stacking, high dynamic range blending, portfolio development, location scouting & more). This trip will be a great opportunity to learn techniques required for unique outdoor photography, while learning from Canadian outdoor photographers, Chase Teron + Jake Graham.
Early Bird Bonuses if booked by May 1, 2020
Over $1000 value
Folder of RAW photos of you from the trip as shot by Chase + Jake  

$500 value


Two hours of post-processing guidance following the trip (via Skype) 

$250 value


Pre-trip call to discuss your photography skills/areas of interest 

$150 value


Signed 8x12" fine art print of your choice by Chase Teron 

$100 value


Signed 8x12" fine art print of your choice by Jake Graham 

$100 value


Northern Lights / Aurora Borealis Photography eBook 

$50 value


The Ultimate Hiker's Gear Guide by National Geographic 

$20 value
FREQUENTLY ASKED QUESTIONS
What is the activity level required for this tour?
This hiking trip will be physically demanding, a 8/10 activity level.
Be prepared to hike up to 15km each day with a 50 pound pack while going uphill,
across uneven surfaces and sometimes through snow.
What is included in the tour price?
Airport transfers from YDA to Dawson City
One night roofed accommodation pre-hike - Aurora Inn (8.9/10)
Helicopter drop in Tombstone Territorial Park
All camping permits & fees
All backcountry meals/snacks (plant-based)
Seven days of on-location photo guidance
Five days of hiking guiding services
One night roofed accommodation post-hike - Triple J Hotel (8.5/10)
What is
not
included in the tour price?
Your flights or other means of travel to Dawson City, Yukon Territory, Canada
Travel and medical insurance (highly recommended)
Food/beverage on arrival & departure days
How do I get to the tour's starting point?
Dawson City, Yukon Territory, Canada
Dawson City (YDA) is accessible via daily flights from Whitehorse (YXY) with Air North.
What kind of weather can be expected?
In Yukon in the fall, no day of weather is ever guaranteed. Things can, and will change quickly from a mild sunny day to a rainy or snowy one in the span of minutes. Please be prepared for temperatures between -15°C and +15°C as well as rain, fog and even snow in the Tombstones.
Will we see wildlife?
While wildlife is never guaranteed...
I have seen moose, bears, foxes, lynx and bald eagles in the areas we will be visiting on this tour.
What should I bring on this trip?
A DSLR or mirrorless camera
Fast wide angle lens for night photography (24mm or wider, F2.8 or faster)
Standard or telephoto lens (24-70 or 70-200mm)
Extra camera batteries
Carbon fibre tripod


Please Note: SPECIFIC camera equipment is not A TRIP requireMENT.


Hiking boots with ankle support
60-80L hiking pack with rain cover
Insulated sleeping pad
Packable sleeping bag (rated to -10°C)
Multiple pairs of spare hiking socks
Thermals, gloves, warm hat
Hiking poles for support & weight distribution on uneven terrain
Rain pants and jacket
Sunscreen + bug spray
Headlight
Compass or GPS device (optional)
Once registered, is this trip refundable?
The trip's 50% deposit is non-refundable.
Remainder of trip balance (50%) is due by July 6, 2020.
If you must cancel for unforeseen circumstances, your spot is transferable to family/friend.
Have questions or concerns before booking your spot?
Please

contact us

using our contact form.
Want to reserve your spot on this tour?
If you are interested in reserving your spot on this small group photo workshop, please complete the following contact form. If approved, you will be provided with a trip agreement form and invoice to make your deposit. Please note that your spot is not confirmed until your signed trip agreement and deposit have been confirmed by the trip organizers. Please do not book your travel arrangements until you have a confirmed spot on the trip.​​​​​​​